For International Women's Day 2017, the Equal Pay Coalition delivered a basket to Ontario's women Ministers and those Ministers who have the specific mandate to close the gender pay gap. The package included a few items to help the Ministers take action: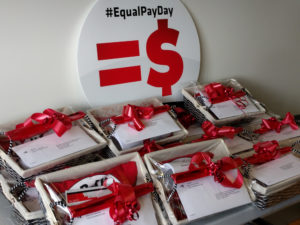 a ruler which provides an intersectional measure of the gender pay gap;
sticky notes to help with their "to do" list;
our flashy tote bag to carry their important "close the gender pay gap" policy documents;
and, the EPC's detailed report on the required steps to close the gender pay gap by 2025.

The Coalition called upon the ministers to get serious and commit to closing the gender pay gap. Additionally, the Coalition sent a letter to Premier Kathleen Wynne, calling for action.
Happy International Women's Day to all. If you are in Toronto, we look forward to seeing you at the rally and march on Saturday!