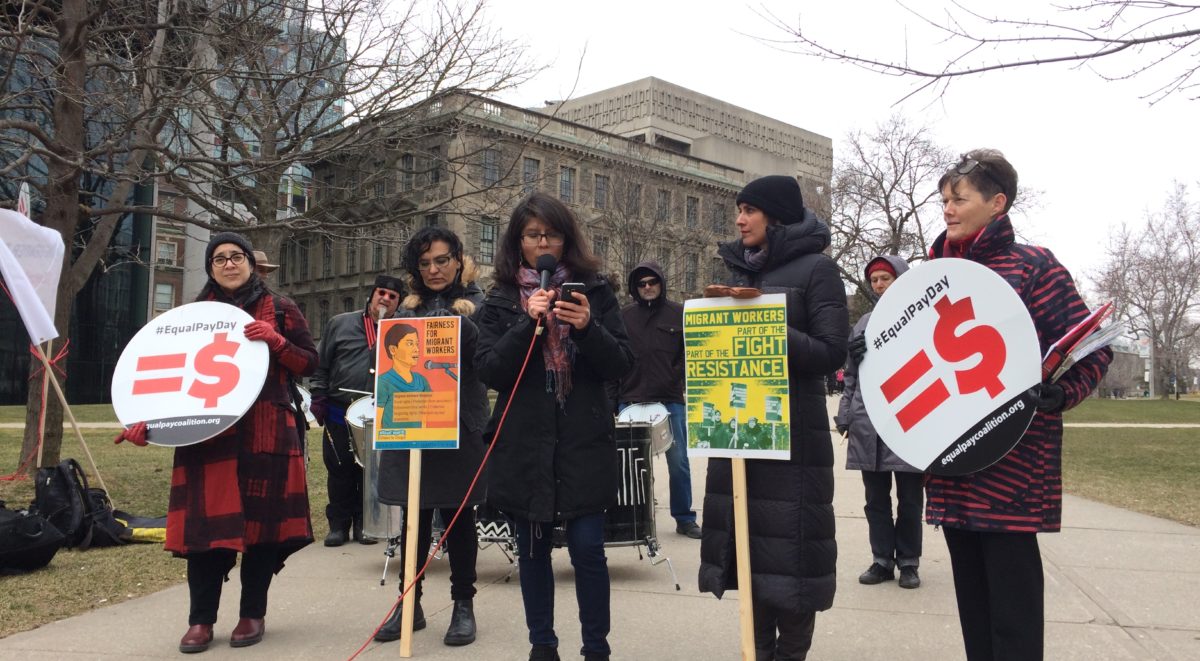 Equal Pay Day is Tuesday April 9
On average, women must work 15.5 months to make what a man does in 12. That's why we're marking #EqualPayDay Tuesday April 9, 2019. Download our guide on how to organize for this Equal Pay Day here: OFL Equal Pay Day March 21 2019
Equal Pay Day 2019 Actions 
Each Minister listed below plays a key role in the closing the gender pay gap. Each Minister either oversees key female-dominated sectors in Ontario's economy or controls economic development. The Equal Pay Coalition wants to hear the Ministers' plans to close the gender pay gap.
Equal Pay Day is an opportunity to visit these Ministers' offices to hear their plans. Join a group that is already visiting these Ministers or plan your own visit!
Toronto Equal Pay Day: Minister Scott, Minister of Labour
10:30 to 12:30 pm
400 University Ave
Rally and community leaflet.
Christine Elliott (Newmarket-Aurora) Minister of Health and Long-Term Care and Deputy Premier
11:00 am
Unit 22, 16635 Yonge St., Newmarket, Toll Free: 800-211-1881
Victor Fedeli (Nipissing)
Minister of Finance
11:00 am
165 Main St. E, North Bay
Tel: 705-474-8340
Lisa MacLeod (Nepean)
Minister of Children, Community and Social Services and
Minister Responsible for Women's Issues
10:00 am
Constituency office: Unit 10, 3500 Fallowfield Rd., Nepean, ON K2J 4A7
Tel: 613-823-2116
Laurie Scott (Haliburton-Kawartha Lakes-Brock) Minister of Labour
Constituency office: 14 Lindsay St. N. Lindsay, ON K9V 1T4
2:30pm
Toll Free: 1-800-424-2490
Todd Smith (Bay of Quinte)
Minister of Economic Development, Job Creation and Trade, and
Government House Leader.
Constituency office: Unit 4, 5503 Hwy. 62 S, Belleville, ON K8N 4Z7
Tel: 877-536-6248
Lisa Thompson (Huron-Bruce)
Minister of Education
12 noon
Constituency office: Unit 2, 807 Queen St., Kincardine, ON N2Z 2Y2
Toll Free: 1-866-396-3007
Caroline Mulroney (York-Simcoe)
Attorney General and Minister of Francophone Affairs.
Unit 8, 45 Grist Mill Rd.
Holland Landing, ON L9N 1M7
Tel:   905-895-1555
caroline.mulroneyco@pc.ola.org
If you have any questions about an event in your area, please email us at equalpaycoalition@gmail.com.
On social media
Follow us on Twitter, Facebook, and Instagram. Like, share, and comment to help our messages reach more people. We'll be posting regularly and you can share them with the hashtags #EqualPayDay #CloseTheGap and #PayTransparency.
Make sure to tag us when you're promoting your events on social media so we can amplify the message.