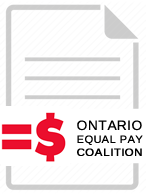 Updated on September 14, 2017:

As Bill 148 goes into its second reading, the Ontario Equal Pay Coalition calls on Madame Premier, and Ministers Flynn and Naidoo-Harris to close the loopholes in Bill 148 during second reading to ensure that the equal pay provisions deliver meaningful protection for workers.
Read the letter and the proposed amendments to section 42 in full.
The Equal Pay Coalition's submissions to the Standing Committee include the following:
Bill 148 introduces modest changes to Ontario's employment and labour law regime. In the Coalition's submission, this is not a neutral exercise. In order to close the gendered pay, the Legislative Committee is required to consider how the existing employment and labour laws contribute or ameliorate that gap. Our recommendations in these submissions, particularly the equal pay for equal work recommended amendments, are designed to ensure that the Bill 148 truly assist in closing the gendered wage gap.
Read the entire document here.