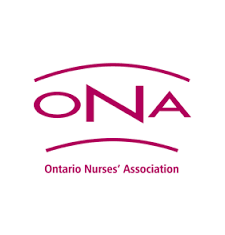 Ontario Nurses Association
The Ontario Nurses' Association provides skilled staff to assist members in matters of contract interpretations, contract enforcement and patient care concerns. Local ONA executives represent members at every ONA work site and provide support and information on workplace issues. Finally, all members are kept informed about ONA's activities via the newsletter Front Lines and through this website.
Benefits
There are many reasons why it's beneficial to work in a unionized environment. Aside from the protection you receive at the workplace against unfair practices and unsafe work conditions, ONA offers a number of services and benefits to our members. These include (but are not limited to):
access to our top-notch education program, which conducts workshops year-round at locations across the province;
professional practice specialists who advise members on practice concerns and the Professional Responsibility Clause;
professional liability insurance for all members which protects them if they have been charged for damages for professional negligence at work;
a Human Rights and Equity Team that promotes equality and works for fair and impartial consideration of issues, including member-to-member harassment;
ONA Benefit Program, which provides base insurance coverage to all members and offers discounted insurance for long term disability, life, personal accident, extended health, hospital, travel and dental insurance; and
occupational health and safety specialists who advise members and keep them abreast of current and pressing issues in occupational health and safety. They also assist with Workplace Safety & Insurance Board (WSIB) claims.
Service Delivery
The union represents or assists its members:
at the bargaining table, negotiating collective agreements which set the wages and working conditions;
at Workplace Safety and Insurance Board hearings;
at licensing body hearings (College of Nurses, College of Physiotherapists, etc.);
in courts of law (employment matters), at inquests and at pension hearings;
in Employment Standards cases and at the Labour Relations Board ;
in helping prepare human rights complaints; and
with insurance companies or before government task forces and commissions.