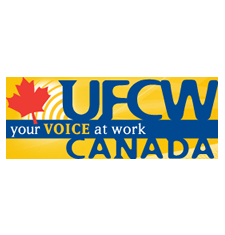 United Food and Commerical Workers Canada
UFCW Canada is Canada's leading and most progressive union. Together, we are more than a quarter of a million Canadian workers strong, and together we are building a stronger future for UFCW Canada Members, Families and Communities, while protecting and promoting employees rights and social justice for all.
UFCW Canada stands for the United Food and Commercial Workers Canada. We are one of Canada's most experienced and respected unions, with union history that goes back to 1899. At the same time, we are one of Canada's most youthful unions with more than 40 percent of UFCW Canada Members under the age of 30.
We are a democratic union. Members vote for their Local Union leaders, the bylaws that govern their Local Union, and their collective agreements.
We are a Canadian union backed up by the strength of UFCW International – one of North America's largest private-sector unions with more than 1.3 million Members.
Many people think of UFCW Canada as the food workers' union because we represent Members in every sector of the food industry from the field, to the processor, to the warehouse, to the store, to the dinner table. But we are more than that. Across Canada tens of thousands of UFCW Canada Members also work in retail, healthcare, hospitality, security, financial services, non-food manufacturing and many other industries.
The UFCW Canada Membership is diverse and vibrant, and UFCW Canada Members work in every province in Canada. The Membership is made up almost equally between men and women, and whether you are employed part-time or full-time, every UFCW Canada Member is entitled to the same level of service and work-related assistance.
All UFCW Canada Members are treated equally, including thousands of Members who are also Temporary Foreign Workers in Canada – on a path to permanent status because of their UFCW Canada collective agreements.