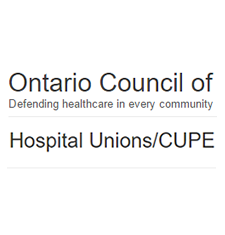 Ontario Council of Hospital Unions/CUPE
The membership of the Ontario Council of Hospital Unions (OCHU) includes 30,000 CUPE hospital, long-term care, ambulance and central laundry workers in 120 bargaining units across Ontario.
OCHU bargains a central collective agreement, coordinates grievances related to centrally negotiated language, conducts campaigns in defense of a universally accessible, public healthcare system, and assists with organizing drives throughout the province. OCHU often works with other unions and community coalitions to support and coordinate joint campaigns in the health care sector.